Anushka-Virat 'marriage' saga: When paparazzi turn pandit
*Click* *click* *click*
"Ma'am, are you getting married?"
"Sir, is Anushka getting married?"
"Where is the marriage?"
*Click* *flash* *Click*
These were some of the many questions that were posed at Anushka Sharma and her parents, with the mikes shoved in their faces and cameras blinding them with flashes. While the star and her family were visibly uncomfortable, the paparazzi took no cue and continued the endless saga of her getting married to beau Virat Kohli.
Source: YouTube
So, let's take you back some hours, or a few days. Virat Kohli reportedly applied for official leave, amidst the ongoing series, and the tongues started wagging. While the spokespersons denied the tiny spark of rumour to refute it before it turns into a wildfire, seems like they failed. Soon after, not only the dates of the wedding, but the venue also started doing rounds. It was said that the wedding would take place in the picturesque Italy, and the dates booked were 11th, 12th, and 13th of December.
Things went out of control when Anushka was spotted at the airport leaving for Italy, with her family, and hence the aforementioned questions and paparazzi quizzing. Each and every channel wanted an exclusive bite and hence the rush to get at least one word out of the celeb's mouth. Hats off to Anushka though, who smiled her way through, without uttering a word, and even her parents who passed the storm of cameras.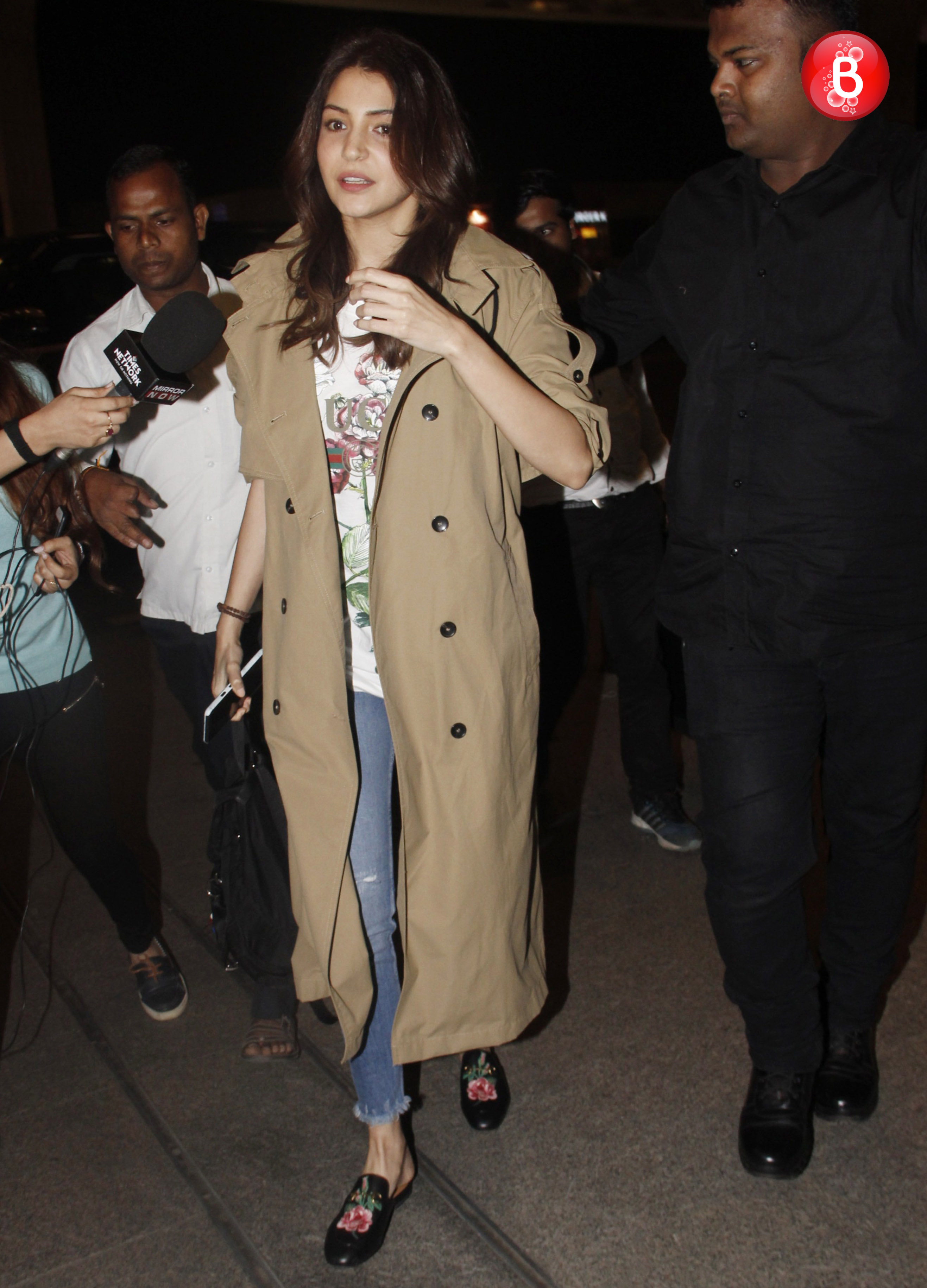 Source: Yogen Shah
Source: Yogen Shah
This makes one ponder as a journalist. Is the quest to find that one exclusive quote so urgent that we absolutely shun the private space of the celebrity? Anushka and Virat are two intelligent and good-looking people who are dating each other, who speak about each other at public events, and whom our cameras love to spot together. But looks like paparazzi have turned pandit for them as they just want to see them both taking the matrimonial plunge.
Anushka has time and again said that whenever she would get married, the whole world would know. After all, why would she hide one of the most beautiful moments of her life? Why would any public figure, unless you are an Aditya Chopra (credit for this analogy goes to a colleague)?
Source: bollywoodnewsstories
You get the gist.
We have a give and take relationship with our stars, and we need to maintain a dignified distance too, because they deserve that space as humans. Hounding and pounding on their doors in a desperate attempt to turn a rumour into a reality doesn't suit the graceful profession that ours is. For all we know, they may or may not be getting married, or Anushka might be off for a vacation with her family. But the assumptions should rest, or at least there should be inquisitions, not plain interference where you are invading the personal space of the star without considering the humane aspect of it.
Anushka and Virat, date away to glory. We will wait till you are ready to take the next step forward.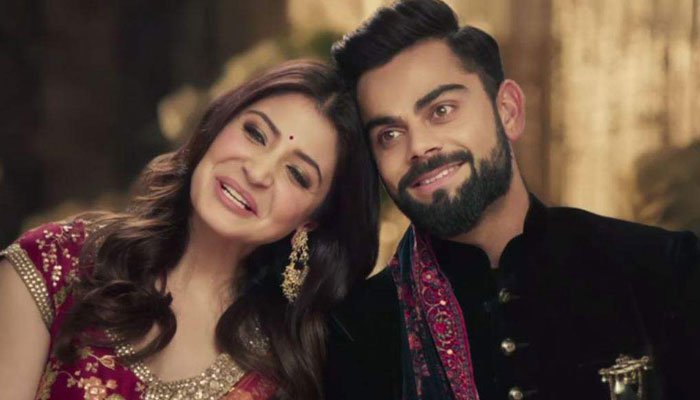 Source: YouTube
Must Watch
Real 'Soorma' Sandeep Singh gets candid about his biopic
Things That Might Interest You:
Your talent will take you places, surnames won't..
Being born into a filmy family has its own share of good points and bad ones. Being in the news from your first day on the earth is one of the highlights of it. The moment you step into this world, there are flashes, flashes and flashes everywhere. No matter how hard the celebs try to keep their kids away from the limelight, paparazzi always finds a way to capture them.
Forget about just being clicked at every place you visit, with your birth in a Bollywood, you have a lot of responsibilities attached. Besides responsibilities, comes criticism, allegations and curses for replacing a potential person who struggles hard to make a mark for himself/herself in the industry.
As much as it is a privilege or a boon to be starkid, it is equally a bane too. Throughout the journey, you may face a lot of unnecessary bashing, but the moment you prove your worth, the same people, who accused you of being privileged, will shower praises on you. Well, I am not here to defend the star kids or criticise them either, what I mentioned above is the exact scenario in the film industry right now.
Take the case of late actress Sridevi's darling daughter, Janhvi Kapoor. Much before the release of her debut film 'Dhadak', the debutante was bashed by a number of people who accused the girl of being a part of the filmy family. I do understand these star kids have an upper-hand when it comes to great opportunities, but that doesn't mean one judges them before watching their final output. Janhvi herself admitted that she has an extra advantage and understands people's outrage too, and this is quite mature on her part as the rest in the industry fail to acknowledge the scenario.
In a recent interview with HuffPost, Janhvi said, "I understand that you feel like you have been robbed of an opportunity that has been handed to me. I'm sure there are people who are more talented than me, and more good-looking than me – I promise you there are. But I am not going to pass this opportunity just because of that."
"The only thing I can do is value it and make the most of it. It is wrong and messed up if I take advantage of it or if I become complacent and think it is my birthright to be here. I know it is not. I know I need to earn people's love. I know I need to work ten times harder because there is a stigma attached to how I've gotten this opportunity", added the young girl.
You see, they too understand its not their birthright and all they need is an opportunity to prove themselves just like anyone of us. It's true that they do grab an opportunity early than the rest of us, but then this is how the industry works. Nepotism does exist, there's no denying to the fact, but that doesn't mean we curse them for the same.
In the past, few actors have misused their advantage, but they are nowhere to be seen right now. Audiences now are matured enough to know the right and wrong, hence, there are so many actors who are in the industry without a godfather and doing exceptionally well. Kartik Aryan, Nawazzudin Siddiqui, Irrfan Khan, Kangana Ranaut, Rajkummar Rao, Sushant Singh Rajput are some of the examples.
Its no more about being an insider or an outsider, it is the talent which works. Even if one is Kapoor or Khan family ka beta/beti, the mibute they fail to perform, their career will be doomed.  Take Ranbir Kapoor for instance, the guy who comes from the first family of Bollywood, had to every now and then face failures, but it was his will and acting skills which got him the position of a star today. People like Ranbir Kapoor, Alia Bhatt, Varun Dhawan and Tiger Shroff have proved  their mettle as actors and there is no one out there who points fingers at them. The coming generation of Bollywood i.e Janhvi Kapoor, Sara Ali Khan, Ananya Panday, will have to go through the same to make a mark.
Finally summing up my piece, in simple words- It doesn't matter where you come from or which family you are born in, it is your talent and work which will take you places and not your surname.
Also Read: Stop ruining classic songs
Things That Might Interest You:
Sequel of a biopic! Seriously? What is wrong with Bollywood filmmakers?
Time and again Bollywood has followed trends that are already popular in other film industries. Earlier in our industry, a film was never developed into a franchise but over the past few years, several big banners offered the viewers with hit franchise like 'Baahubali', 'Dhoom' 'Gangs of Wasseypur' among others which went on to become huge box-office successes.
Though these movie franchises have been a huge hit, however what pains us the most is how the concept of sequels is so misunderstood by some filmmakers in Bollywood. In the name of sequels our filmmakers just try to en-cash on the popularity of the film's previous instalments. We have very few franchises which actually take the story of its previous instalments forward. Otherwise, a majority of the time only the title of these films are similar with an added suffix of 2, 3 and so on.
Another current trend that Bollywood is diligently following these days is making biopics. Yes, every second filmmaker is making a biopic either on an actor, politician, sportsperson or some other eminent personalities. Though we don't have any problem with these biopics but anything done excessively defeats the purpose of such biopics.
Just because a biopic became a success at the box office everyone in B-town now either wants to make one or star in one. Currently, we have near about 15 biopics in the pipeline! Yes you read that right. We wonder when our filmmakers are going to get rid of this herd mentality.
Now, these already lined up biopics weren't enough that stories of cricketer Mahendra Singh Dhoni's biopic 'MS Dhoni: The Untold Story' and the recently released 'Sanju' (based on the life of Sanjay Dutt, one of the most controversial actors of Bollywood) to have a sequel started doing the rounds. Ever since I came across these stories I am scratching my head and wondering since when biopics started having sequels???
Reportedly, the sequel of MS Dhoni biopic will focus on Dhoni's achievements after India's victory at the 2011 World Cup. Apparently, the sequel may even focus on Dhoni's personal life, especially the birth of his daughter. On the other hand, there have been reports of 'Sanju' having a sequel as many important phases of the actor's life were missing from the current film.
It is an understood fact that a life of a person cannot be captured entirely in a 2-3 hours film, and therefore tremendous effort has to be put in the scripting stage of these biopics so that all the crucial parts of that person's life are covered. However, our filmmakers are very innovative thinkers and have therefore come up with the idea of making sequels of biopic!
Interestingly the writer of 'Sanju'-Abhijat Joshi, in one of his media interactions during the film's promotions had said that out of 750 pages of the actor's (Sanjay Dutt) life they have used only 150 pages in the film. So still there are a lot of interesting stories from the actor's life that can be translated on the celluloid. But thankfully, director Rajkumar Hirani has clearly told Sanjay and Ranbir Kapoor that there would be no sequel of 'Sanju', as according to him, 'A person can have only one biopic' and that's exactly and precisely what our point is! No matter how many interesting chapters there are in a person's life, he or she can have only one BIOPIC. Period.
How we wish our other Bollywood filmmakers understand that a sequel means a film that takes the story of its previous instalment forward (and not just a way of en-cashing on the popularity of the franchise) and also the fact that the way a person can never play himself in his/her biopic, in the same way, there cannot be a sequel of a biopic no matter what.
Also Read: O Womaniya…How our actresses are bringing a much needed paradigm shift
Things That Might Interest You: