If Bollywood heroes were food items, what would they be? Find out here
Bollywood actors bring their own flavour to the movie. From villains to heroes, everyone adds their unique touch to the film. Now imagine if all the actors turned into delicious food items? That would be one yummy dish. Don't you think?
All the actors have a special quality that makes them stand apart from the rest. Our heroes are known for creating dhamakas with their action, bring in sweetness with their romance and spread some spice with their hotness.
Now we all know that there are several food items named after celebs. But have you ever wondered what Hrithik Roshan, Ranveer Singh and Salman Khan would be if they were food items?
Here I bring you 7 Bollywood stars and what they would be if they were food items.
If Bollywood actors were food items
Hrithik Roshan will be Noodles
Hrithik Roshan is one of the most amazing dancers in Bollywood. The actor can effortlessly pull off literally any step. He was last seen grooving in the song 'Ghungroo' from 'War'. Obviously his performance was applauded widely. Hrithik will be perfect as noodles as he is super flexible and very lean.
Image Source - Instagram
Ranveer Singh will be Pani Puri
Ranveer Singh is the livewire of B-town. The actor is known for his over the top energy levels. He had always been the life of every party that he attends and has been applauded for his action-packed roles. Ranveer will be the perfect bowl of Pani Puri. As he will be the ultimate explosion of various flavours and every girl's favourite.
Image Source - Instagram
Salman Khan will be Biryani
Salman Khan is the superstar of Bollywood. He is known to bring the entire family together with his entertaining movies. Just like how Briyani is the binding element in any occasion. I mean who doesn't like Biryani and who doesn't like Salman Khan? So its match made in the heavens of the kitchen.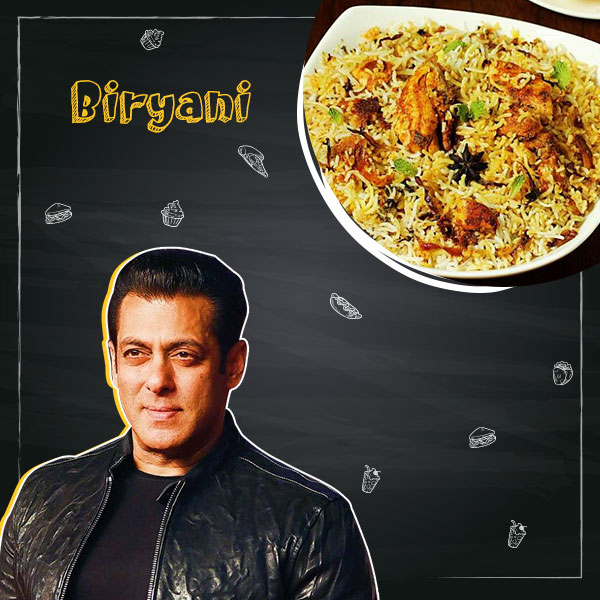 Image Source - Instagram
Aamir Khan will be Badam Ka Halwa
Aamir Khan is known as the Mr.Perfect of Bollywood. He is one of the most intelligent actors in B-Town. And it's an age-old saying that one should eat 'Badams' to make your brain strong. Aamir's films have always been sharp yet sweet with a lovely message right from 'PK' to '3 Idiots'. So there you have it, Aamir will be the perfect serving of 'Badam Ka Halwa'.
Image Source - Instagram
Akshay Kumar is one of the fittest actors in Bollywood. He has been very influential when it comes to inspiring fitness freaks. His fitness regimes are very strict and unwavering. He would be spot on a bowl of salad that will be full of nutrition and energy.
Image Source - Instagram
Shah Rukh Khan is the Badshah of Bollywood. He is known as the ultimate romance king. From 'Raj' to 'Harry' all his roles have made us go heart eyes. SRK is sweet like Barfi, so if he were a food item then I think he will be Kaju Barfi.
Image Source - Instagram
John Abraham is the most dressed down actor when it comes to making public appearances. John is mostly seen in chappals and casuals. And the reason behind his casual avatar is that he prefers not wasting time. So by that logic, John would be a plate of Maggi, which is not only delicious but also gets ready in two minutes.
Image Source - Instagram
Kartik Aaryan will be Samosa
Kartik Aaryan is one of the most adorable heartthrobs. And there is hardly any new-gen actress left who has not been linked with Kartik. He has been linked to Sara Ali Khan and even Ananya Panday, pretty much at the same time although there hasn't been any confirmation from either end. Kartik will be perfect as spicy samosa as he always finds himself stuck in the spiciest love triangles.
Image Source - Instagram
Well, we hope you enjoyed this. For more such fun updates, stay tuned to Bollywood Bubble.
Also Read: If Bollywood actresses were food items, what would they be? Find out here