Bollywood's power women who pulled stunt scenes on their own
Amy Jackson managed to impress all with her action sequences in her movie 'Singh Is Bling' which didn't do much at the box office. From horse riding to fighting scenes, Amy Jackson performed all her stunts herself and impressed us all!
Kangana Ranaut did all her stunts in her movie 'Krrish 3'. All we can say is that even Kangana's stunts could not save 'Krrish 3' from being the disaster that it was! She also performed a lot of action sequences in 'Revolver Rani'.
Sonakshi Sinha is coming up with two back-to-back action films, 'Akira' and 'Force 2', and she is set to perform some high octane action sequences in both. In fact, she has been training in MMA as well for the same. While 'Akira' is about women's safety, and in 'Force 2' she will be playing special agent alongside John Abraham.
The 'Aashiqui 2 'actress was recently spotted performing stunt for a brand's ad shoot, and managed to surprise all of us with her rough and tough side. By looking at her, we can definitely say for sure that looks are indeed deceptive! She even shared a picture of herself, clicked while doing the stunt.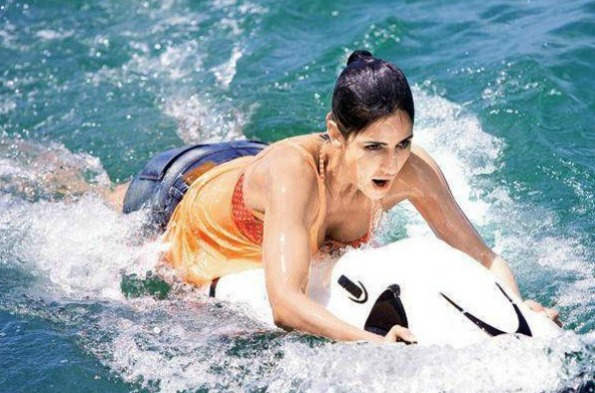 Don't go by her looks! She looks so gorgeous and delicate, but she managed to surprise all of us by doing all her stunts in her movies like 'Dhoom 3', 'Ek Tha Tiger', ' Bang Bang!' and recently released 'Phantom'. Not to forget her jet ski stunts in 'Bang Bang!'.
Aishwarya Rai Bachchan is another actress who looks like she'll have nothing to do with actions and stunts. But she proved that even beautiful women can be super tough! She performed her own stunts in 'Dhoom 2', 'Jodhaa Akbar' and her comeback flick, 'Jazbaa'.
In her latest hit, 'Bajirao Mastani', Deepika Padukone donned heavy armour weighing 20 kg and performed stunts! Remember 'Chandi Chowk to China'? She did all her stunts in the movie, at least one reason that makes that movie memorable.
Priyanka Chopra, who is currently busy with her international projects, has proved it time and again that she shows no hesitation when it comes to putting her life on the edge for a stunt! From her older movies like 'Don',to the recent 'Mary Kom' or her latest international series, 'Quantico', PeeCee has done it all and many other action sequences on her own, and she marks as one of the toughest girls in Bollywood.
Anushka Sharma who will be seen as a wrestler in her upcoming movie 'Sultan', has performed all the stunts by herself. She even refused to use a body double. However, reports suggest she even got injured while shooting for an action sequence. As per a report, Anushka Sharma was performing a stunt for which she refused to use a body double. Things took an ugly turn when the actress got a major injury on her shoulder, so much that the shoot for the day had to be cancelled. With so much passion and dedication going into her role, we are sure Anushka Sharma's performance would be one to watch out for. The movie is set to release this year on Eid.