Shubho Bijoya REVIEW: Gurmeet and Debina starrer is a tear-jerker with the heart in right place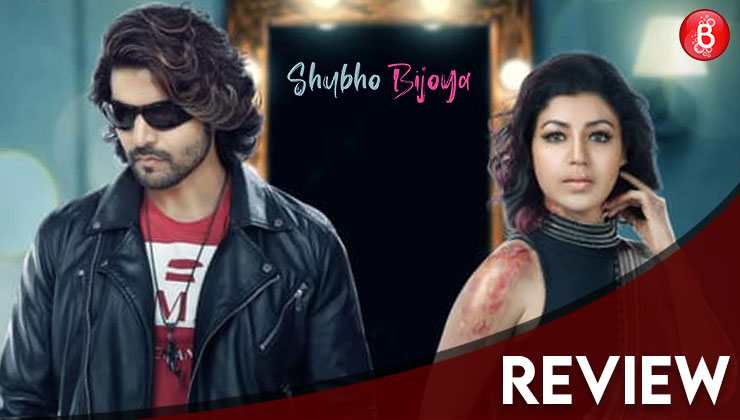 Image Source - Instagram
Director: Ram Kamal Mukherjee
Cast: Gurmeet Choudhary and Debina Bonnerjee
Bollywood Bubble Rating: 3.5 stars

Gurmeet Choudhary and Debina Bonnerjee came together for the first time in 11 years. The Ram and Sita of Television have always been known to exude a classic camaraderie both, onscreen and offscreen. This time, they have returned with an almost 50 minutes short film, SHubho Bijoya, which shows love in a different light. Playing the titular roles are both Debina and Gurmeet, who recreate strong onscreen chemistry with the short film.
Shubho Bijoya is about a model (Debina) and a photographer (Gurmeet) who fall in love and the ups and downs they juggle with through the journey. The lengths to which the couple goes on an individual level for love is highly tragic, emotional, and heart gutting. It is honestly difficult to not tear up while watching the two trying to sail through the adversities only for love. While Shubho is shown to lose his eyesight after an accident, Bijoya is diagnosed with skin cancer, coincidentally, around the same time. It is tragic, symbolic yet heartfelt in many ways. The couple tries to live every moment at their last and that is what makes the story beautiful.
Gurmeet and Debina's screen presence and chemistry works wonder for the film. Debina as a fiercely independent yet vulnerable Bijoya is exceptional. Gurmeet's effort to play a blind man and pick up the nuances is commendable. Both of them seem to be one body and soul with Shubho Bijoya which is simply magical. There are moments when Debina's helplessness and vulnerability gives you goosebumps.
View this post on Instagram
The music blends with the storyline perfectly but is of course, not something you take away by the end of the film. The screenplay is linear and doesn't let the audience wander too much. The treatment to the story is simplistic yet effective.
There are aspects which might feel slightly unrealistic but thats the magic of cinema, it is aspirational! Keep the tissues ready while watching Shubho Bijoya!
Also Read: Debina Bonerjee & Gurmeet Choudhary renew their vows, get married to each other again?