The man who always ran away: Aditya Chopra and the curious case of his media-apathy!
A director, a producer, the owner of India's (arguably) largest film-media-Entertainment conglomerate; it is not without reasons that the man has a bunch of photographers and reporters literally hunting him! It is weirdly surprising how Aditya Chopra manages to keep himself away from the limelight all the time.
There is no dearth of assumptions as to why and how Chopra has this strange phobia of facing the camera and the press. We are sure as hell sorry to make him run every time he sees us; however, no harm in revising the stories of his interesting face-offs with the press. Have a read!
Also Read: Ranveer Singh was Shah Rukh Khan for director Aditya Chopra from day 1 of 'Befikre' shoot
Want a free KFC burger? Here's how you can get one!
Now, a family man!
It's been years, but Aditya's apathy to talk remains the same. In 2014, he tied the knot with actress Rani Mukerji and the couple is now blessed with a baby girl whom they named Adira. The director was recently in Paris to shoot for 'Befikre'. But as usual, no interviews of him ever came out. Looks like nothing has changed!
A behavioural disorder?
"The person craves approval but also dreads confrontation. This makes them stay away from such situations and in extreme cases can even lead to the person becoming reclusive. They may fear being photographed because they are not confident of themselves," Varkha Chulani, a clinical psychologist and psychotherapist told a leading daily, while analysing Chopra's behaviour.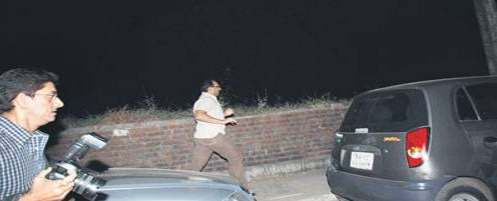 Aditya Chopra running away from media
Another time, the media discovered that the man was really fond of taking a late evening dip at a suburban 5-star hotel in Mumbai, a photographer reached at the right time and was patient enough to spot Aditya reaching to indulge in some relaxation. The moment the man took out his camera, Aditya went all panicky and started pleading, "No, no, please don't! Don't shoot! Main aisa nahin hoon! Mujhe kyun pareshan kar rahe ho? Why don't you respect that I don't want my pictures taken?" Taken aback, the photographer had to convince him that he indeed respected him. Next, Aditya told him, "If you don't stop shooting, I'll call security and have you thrown out."
Run for his life... oops... car...
The media once learnt that Aditya had come to attend the paid preview of 'Ghajini', and ran to the spot to catch him. But the man is smarter than you think. He took the back door to exit. They still chased him, but he ran the run of his life to enter his car! He even dropped his phone but who cares? His bodyguard later took the phone from a TV journalist.
A sufferer at his young age
According to reports, the director-producer suffered from APD or Antisocial Personality Disorder. One of the symptoms of APD is when you begin to be continuously worried for your own safety or safety of others. Reports further state that throughout his teenage, he was undergoing treatment for the same.
Once a friendly man
However, the ones who know him for a long time, have something else to say. Apparently, Aditya wasn't like this forever. Yes, he might not be too extrovert, but he used to converse with people. There would be visitors at his father's office in Juhu who spoke to him. But it changed as he started leading the company and more and more people became curious about his whereabouts.
Meet the man!
If you consider Bollywood as a large industry (which it of course is), this man is one of the few indisputable honchos. India globally produces the highest number of films per year, a major chunk of which is contributed by the Hindi film industry. Of the few brands that have contributed in Bollywood's growth for generations now, Yash Raj Films is one. The production house is witness to changing trends, diverse choices and evolving trends of cinema. At the same time, it gave rise to some of the most charismatic and iconic faces that represent Bollywood on an international dais today. Aditya Chopra, the present owner of YRF, carried the legacy proudly. However, as surprising as it may sound, Chopra is petrified of facing the press. The man has earlier ran the race of his life because he wanted to get away from photographers. A few decades in the industry, and we only have a handful of his photos. Chopra and his phobia of crowd and media is now legendary. But what is it really all about? Is it a public figure's attempt of protecting his privacy? Or is it a type of behavioral disorder that he carries?