Debina Bonnerjee is quite a hands-on mother to her two daughters Lianna and Divisha. The new mom keeps her fans updated with her personal life through her social media. Now, recently she even updated them with her health status as she got diagnosed with Influenza B virus.
Debina Bonnerjee diagnosed with Influenza B virus
Taking to her Instagram stories, Debina Bonnerjee shared a screenshot of her medical report updating about her health. It clearly shows that the actress has caught Influenza B virus. Along with it, Debina wrote, "So got Influenza B virus… Well hang on Mamma! Satying away from my babies now.. Motherhood is anything but easy… Symptom:- Fever and cough (sic)".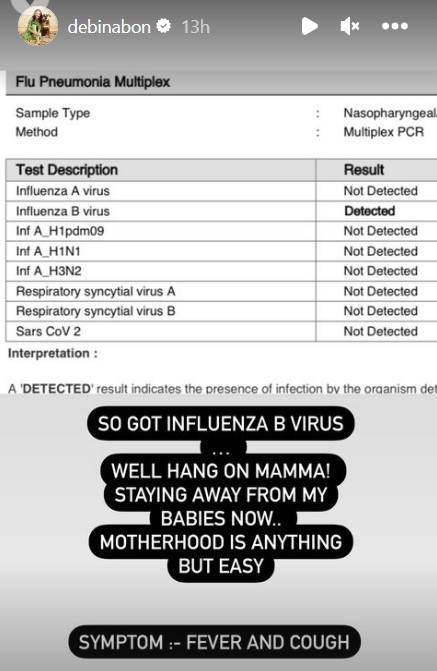 Debina is in recovery
A spokesperson of the actress shared that Debina was a little unwell the last few days and had been taking precautions already. But when the cold did not get any better, she got tested and was detected with influenza B virus. They further added, "She is recovering, taking good precautions, eating well and making sure her babies are away and looked after well. She is on her road to recovery and will be back stronger."
Debina and Gurmeet Choudhury became parents in 2022
The year 2022 was quite special for Debina and Gurmeet as the couple became parents twice in the year. In April, they had the birth of their elder daughter Lianna. It was after years of trying for parenthood that they were blessed with their first kid. The excitement and happiness of it doubled as the couple got a surprise of a second pregnancy soon. In November 2022, the couple had their second daughter whom they named Divisha.
Here's wishing Debina a speedy recovery. Hoping she gets to reunite with her daughters soon.