What were Bollywood upto on Valentine's Day?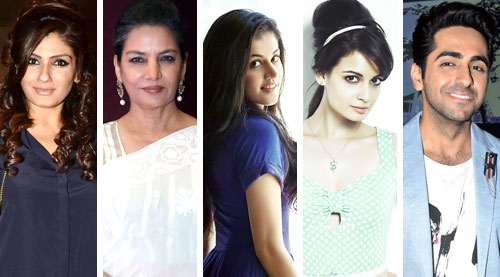 For some like Shabana Azmi, Valentine's Day is a "marketing ploy" and for others like Dia Mirza, the occasion Saturday is being made special with their beloved's presence.
V-Day plans of some film celebrities:
Raveena Tandon: This month, my husband and I celebrate 11 years of marriage. So Valentine's Day is like a teaser trailer to our wedding anniversary on Feb 22. My husband (Anil Thadani) and I are in Udaipur at the Jai Mahal and Shivniwas Palace where we got married, reliving the golden moments.
Shabana Azmi: No plans whatsoever! Obligation to buy a gift for your partner on Valentine's Day is a marketing ploy that I've never succumbed to. A warm touch and a shared silent moment is more meaningful than a 9-carat diamond.
Aarya Babbar: Hardly is there a year in our given romantic life when we're lucky enough to have a special Valentine's Day. If we are lucky enough to have a special V-Day, we should just cash in on it. This year is that special V-Day for me. I am taking that someone special in my life to a surprise destination. Hopefully, it should be romantic. Hopefully she'll love me even more after this surprise. Hopefully we'll be married before next Valentine's Day.
Ronit Roy: I'm shooting as usual on Valentine's Day. For me every day is Valentine's Day, as I consider myself extremely lucky to have Neelam as my wife. Gift? Aren't diamonds a girl's best friend?
Dhanush: I've a release this week. So Valentine's Day would be spent pampering my film rather than my wife.
Taapsee Pannu: I'll be shooting on Valentine's Day. But everyone who has someone in his or her life must not forget to shower love on your beloved for the remaining 364 days (too).
Dia Mirza: This is my first Valentine's Day after marriage. Just the thought that my husband will be with me this year makes me happy.
Ayushmann Khurrana: I don't celebrate Valentine's Day. But I remember making endless rounds of my then-girlfriend (now wife)'s home in Chandigarh on my bike on Valentine's Day. Those were the days!
Inputs by IANS