Bhumi Pednekar is sharing hilarious meme-worthy stills from 'Sonchiriya'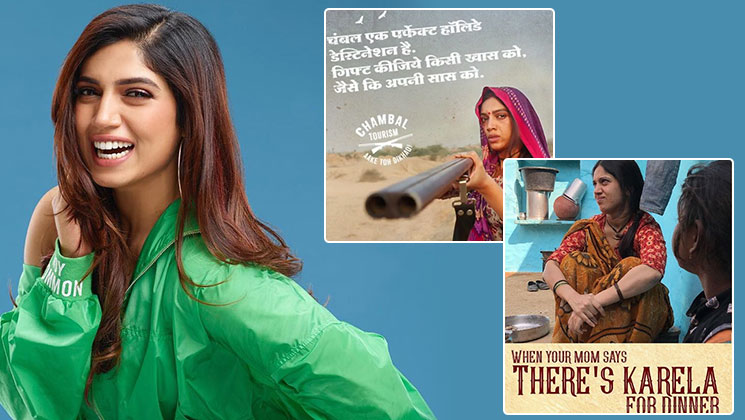 Image Source - Instagram
We are living in the times of social media and 24*7 internet. Bollywood celebrities have no other option but to maintain a presence on social media. Now, Bhumi Pednekar is awaiting her next release 'Sonchiriya' and this hardcore action film also features Sushant Singh Rajput, Manoj Bajpayee in lead roles.
Bhumi Pednekar posted stills from the dacoit drama and shared it on her social media. The actress will be playing the role of a local as the film is set in Chambal, Madhya Pradesh. Bhumi who is known for her previous characters in 'Dum Laga Ke Haesha' and 'Shubh Mangal Savdhaan' will take on a complete de-glam avatar for the movie. Bhumi is making rapid strides in the industry and is enjoying every bit.
Now, Bhumi shared a series of memes and they are very hilarious.
Bhumi Pednekar though has worked very hard for 'Sonchiriya' and tried to do justice to the film. Talking about her role in a dacoit drama, Pednekar told Mid-day, "In our very first meeting, Abhishek Chaubey (director of 'Sonchiriya) told me that I had to become physically strong to survive the film and the terrain we were to shoot it in."
For building muscles and developing a robust frame, Pednekar revealed about her preparations. The actress shared, "For a month-and-a-half, I would walk four kilometers in Aram Nagar daily, carrying five liters of water on my head. This would be alternated with another routine where I would run carrying a 10-kilo wheat sack on my back. [To build muscle on my arms], I used to grind wheat every day."
'Sonchiriya' is releasing on March 1, 2019. Stay tuned to Bollywood Bubble for all the latest news and updates.
Also Read: 'Sonchiriya': Sushant Singh Rajput, Bhumi Pednekar to meet real daakus of Chambal