Nora Fatehi trolled for commenting on lady's incorrect English in the viral slut-shaming video
Image Source - Instagram
If you all are active on social media then by now you must have come across the viral video of an elderly aunt from Delhi refusing to apologize after slut-shaming few young girls. The video has been shared widely on social media and rapper Raftaar too posted it on his Instagram handle. Actress-dancer Nora Fatehi commented on the video, however, she got brutally trolled by the netizens. Read on to know why.
Shaming the woman for her narrow mentality, Raftaar wrote, "This is aunty. Aunty wants women in short dresses to be raped by men. Aunty is the prime example of what's wrong with society. Don't be like aunty."
You can check his post below:
While everyone was appalled by the views of this woman, however, Nora had an altogether different observation. Commenting on the video, Nora wrote, "Wow she literally raped English…" Instead of addressing the main issue, Nora was having issues with the lady's English!
Now, this was enough for the netizens to troll Nora. Some even said that Nora should not judge others when she herself can't speak Hindi properly despite being in Hindi film industry.
You can read their comments below: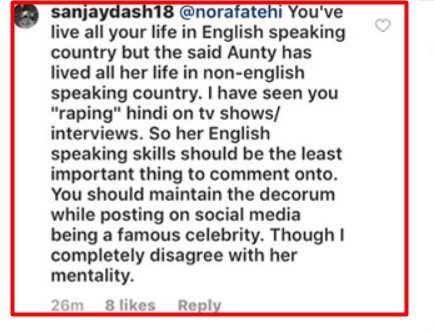 Image Source - Instagram
Image Source - Instagram
Image Source - Instagram
Image Source - Instagram
Image Source - Instagram
After receving flak from the netizens, Nora deleted her comment from Raftaar's post.
Also Read: Nora Fatehi teaches 'cutie' Shraddha Kapoor the hook step of 'Dilbar' song in this epic video