The rise and rise of multi-talented actor-singer Ayushmann Khurrana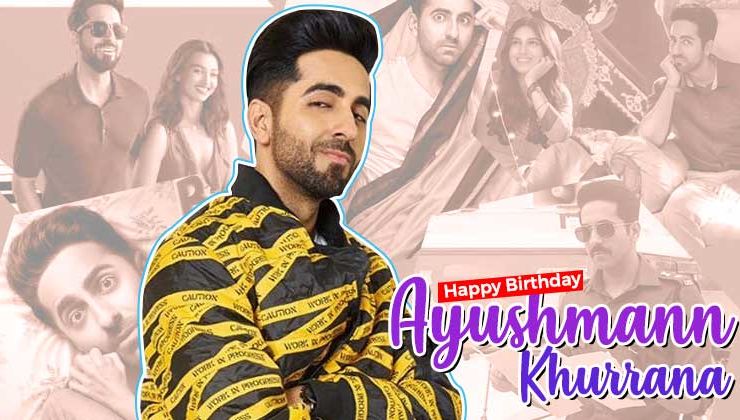 Image Source - Instagram/YouTube
If there's one actor who has always proved that embracing unconventional stories is the need of the hour then it is the one and only Ayushmann Khurrana. Ever since he entered Bollywood eight years back, Ayushmann has chosen scripts that not only looks good on paper but comes out wonderfully on the silver screen as well.
Unlike his peers, Khurrana knew that he won't be given opportunities on a platter, so he will have to hit the bull's eye in his first attempt. And that's exactly what Ayushmann did when he decided to play a sperm donor in his very first film! And mind you, it's not every day that you come across a person who picks up an untrodden path over choosing 'the tried and tested' formula to enter Bollywood.
Also, the kind of humble background that Ayushmann comes from, he knows the pulse of the audience. Stories based in small towns, the struggle and dilemma of the common man are something that everyone can easily relate to. And coming from the same background, Ayushmann knows exactly what people of today's time would love to see.
This is a great time in Bollywood where actors are thinking twice before picking up a script. Gone are the days when brawn made you a star. Today the audience is open to experimentation and is looking forward to watching something they can relate to and things that can stimulate their grey cells.
Sometimes it is good to indulge in escapist cinema but after a point, on-screen you want to see characters that you know in real life. And Ayushmann is doing exactly that. After playing a sperm donor in his debut film, he went on to play the brooding good-for-nothing husband Prem in 'Dum Laga Ke Haisha'. School-drop-out Prem is ashamed of being married to an over-weight Sandhya (Bhumi Pednekar) . However, Sandhya is the one who earns as well as looks after her house. Haven't we all came across or know about a couple like this in real life? We have, right.
Ayushmann's character in 'Dum Laga Ke Haisha' undergoes change and with time and he embraces his wife the way she is and also embraces his own flaws. Now that's the beauty of this film. Indian men have been fed with this notion that just because they are men they are entitled to everything and anything. Now whether they deserve those things is the question that is not even taken into consideration.
Then came 'Shubh Mangal Saavdhan', Ayushmann once again showed the youth that suffering from erectile dysfunction is not something to be hushed about. If a Hindi film hero is having these kinds of problem then it's absolutely fine that a common man can go through the same as well- after all this is how our masses gauge any situation. Don't they? So hats off to the actor to be man enough for taking up such a project.
View this post on Instagram
'Badhaai Ho' highlights the plight of 20 something Nakul Kaushik's embarrassment when he comes to know that his parents are pregnant. What ensues after that is his encounter with hilarious situations but the sensitivity through which this film portrayed that there's nothing wrong about a middle-aged couple having an active sex life.
With 'AndhaDhu', Ayushmann proved that he indeed has a taste beyond satirical comedies. He along with Tabu made this film a delightful watch and for time to come, this Sriram Raghavan directorial will top everyone's must-watch films list for sure.
His other films like 'Bareilly Ki Barfi' and the recently released 'Article 15' and 'Dream Girl' are poles apart and that's what makes Ayushmann an actor to watch out for and root for.
Ayushmann's on-screen characters are giving voice to every middle-class man who only aspired to be like the Hindi film heroes and never thought that one day they will be the Hero. The actor's next film 'Bala' grapples with the problem of premature balding and it already has me rooting for it thanks to its amazing teaser.
And how can we not mention 'Shubh Mangal Zyada Saavdhan'? In this Aanand L Ra production, Ayushmann will be playing a gay character, and that's something which none of our A-listers actors has attempted to pull-off so far. This film is definitely going to be a game-changer in this post-Section 377 India.
It's not that whatever film this actor has touched has turned out to be gold. He had seen his fair share of failures in films like 'Bewakoofiyaan', 'Meri Pyaari Bindu' and 'Hawaizaada' to name a few. And there's no denying in the fact that his failures have made him what he is today.
Apart from being a terrific actor, Ayushmann is a great singer as well and we all can vouch for that. His renditions of 'Pani Da Rang' and 'Saadi Galli Aaja' are simply earworm. It would be really nice to see him sing in each of his films. Don't you guys agree?
The actor's love for poetry and literature is a known fact. And he writes quite well too. His inclination towards arts reflects in his work and we would love to see him continue his tryst with poetry and maybe someday he might publish own his collection. You never know!
Ayushmann has confessed that he was lucky to "be in the right place at the right time". What he missed out is that it takes talent to recognise the right opportunity and dive headfirst. And he is the testimony of this fact.
Happy Birthday, Ayushmann, we wish you an 'AndhaDhun' success ahead. Keep rocking.
Also Read: How Bollywood's supremely talented young brigade has brought in a paradigm shift