Children's Day Special: Ever wondered how the report card of your favourite stars looked like? Check it out right here
Social media is an awesome place to be in, only if you know whom to follow and whom to avoid(*wink*). On these social networking sites, the creative juices of the intelligent and brilliant minds are always overflowing and the kind of witty jokes they share makes everyone have a hearty laugh.
On Children's Day, Author and Content Marketing Specialist Naomi Datta came up with B-town's celeb's 'report card as a child' and they are so on bang on that it left the Twitterati laughing out loud.
Now every celeb has their own uniqueness and quirk. Ranveer Singh is known for his quirky fashion sense, Ayushmann Khurrana is known for thinking outside the box and Ekta Kapoor is popular for her crazy and wild imagination.
So have you ever wondered what kind of remarks these celebs must have received from their teachers? Well, Naomi came up with some hilarious (imaginative) remarks that must have featured in these celeb's report card. Have a look
Image Source - Instagram
Report Card: "Ranveer is full of ideas & is a lovable child. However, we cannot accept the plan he has submitted to redesign the school uniform. None of the other boys are in favour of yellow trousers"
Ayushmann Khurrana
Report Card: "Ayushmann is well behaved & very good in extra-curricular activities like singing. However, he constantly tells the other children that it is ok to have flaws & faults. It goes against our school motto which is strive for perfection"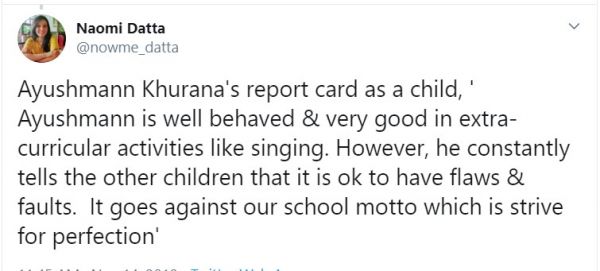 TV Czarina Ekta Kapoor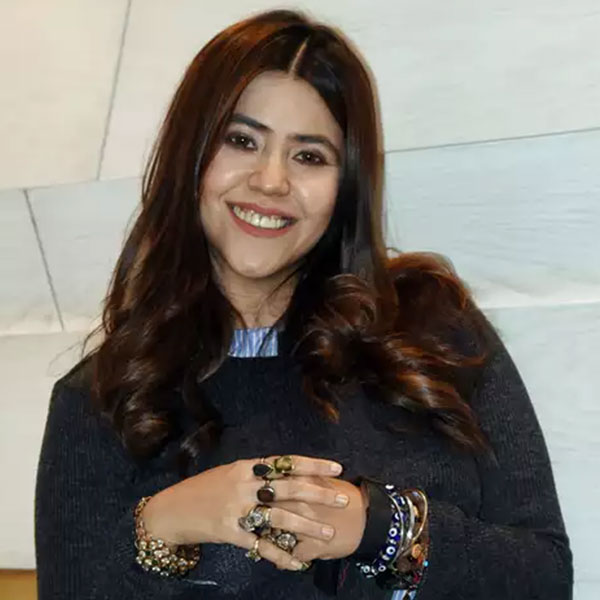 Image Source - Instagram
Report Card: "Ekta is a very imaginative girl. However, she has to stop imagining the physics teacher is an icchadarin nagin and will steal the chemistry teacher away from his wife, the history teacher. There is tension in the staff room"
Image Source - Instagram
Report Card: "Tiger is a polite & well-behaved child but doesn't understand geometry doesn't have practicals. Is constantly demonstrating every conceivable angle with his body' #ChildrensDay"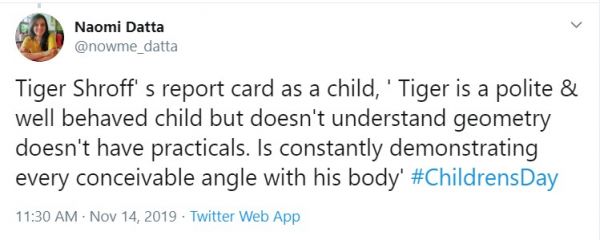 Image Source - Instagram
Report Card: "Himesh needs to stop stretching his sentences. Also, he can't shout Jai Mata Di Lets Rock in the exam hall before every paper."
Now ain't these observations simply bang on? And of course, they were made in jest.
I don't know about you guys but my day was made after reading these hilarious remarks. And I am pretty sure even the stars mentioned in the above tweets will agree to most of these remarks.
We wish you all a very Happy Children's Day.
Also Read: Happy Children's Day: Adorable childhood pictures of Bollywood couples