RIP Dilip Kumar: Devdas to Mughal-e-Azam; remembering the best films of the tragedy king of Bollywood
Bollywood has lost one of its most legendary actors today as the evergreen Dilip Kumar passes away. It is indeed a very sad day for the Indian Cinema as we lost such a gem. He has left a void that will be unfilled forever. Dilip Kumar was hospitalised a couple of times in the last few months and although Saira Banu had assured mere days ago that Dilip Sahab is doing fine and is stable, at 98 we lost a star. He was and will always be known as the tragedy king of Bollywood. His contribution to cinema is unmatched and the late actor has given hits like Devdas, Mughal-e-Azam, Aan and many more.
Today remembering the legendary actor, let's look at some of Dilip Kumar's best films that made him the great actor and original tragedy king of Bollywood.
Devdas
Devdas was and will always be one of the greatest Indian movies. Its plot was based on the romantic and yet emotional downfall tale of a young man who was from an influential family. Devdas was an adaptation of Sarat Chandra Chattopadhyay's novel of the same name. The movie was widely applauded and it is an evergreen classic.
Image Source - Instagram
Mughal-e-Azam
Mughal-e-Azam was helmed by ace filmmaker K Asif. Dilip Kumar looked royal and regal as he lived the character of a future Mughal emperor Jahangir. His role was a gamechanger in more ways than one. Dilip Kumar was swooned over by the ladies for his romance with Madhubala. Every shot was an ingrained classic which is iconic to date. This aesthetically pleasing blockbuster also starred Nigar Sultana, Durga Khote and Ajit.
Image Source - Instagram
Aan
Next on the list of best films by Dilip Kumar is Aan. The movie was helmed by Mehmood Khan. The plot was based on a competition of fencing between a brave village chief beats a royal. Aan was critically acclaimed and got a lot of international love as well.
Image Source - Instagram
Shakti
Shakti featured two of the most legendary actors in Bollywood Dilip Kumar and Amitabh Bachchan. Shakti revolved around a head-to-head between an honest police officer and his corrupt son. The tragedy king had won a Filmfare award for his amazing performance.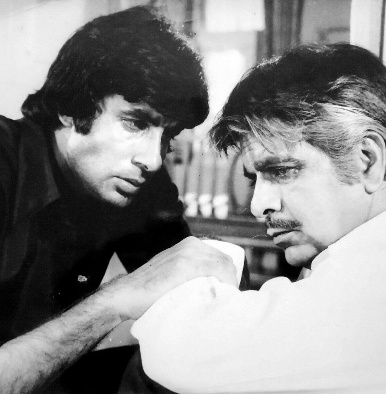 Image Source - Instagram
Saudagar
Dilip Kumar and Raaj Kumarn reunited once again in 1991 for the blockbuster Saudagar. Before Saudagr the two amazing actors were seen in the 1960 classic Paigham. Saudagar was directed by Subhash Ghai. It was yet another comic performance by Dilip Kumar.
Image Source - Instagram
It is a huge loss for Indian Cinema as Dilip Kumar passed away. But he will always live in the hearts of his fans and the iconic characters that will live on forever. May his soul rest in peace.
Also Read: RIP Dilip Kumar: Bollywood celebs and fans express heartache as India loses the 'tragedy king'