'The Sky Is Pink' Movie Review: Farhan Akhtar & Priyanka Chopra's emotional family drama is sure to make you weep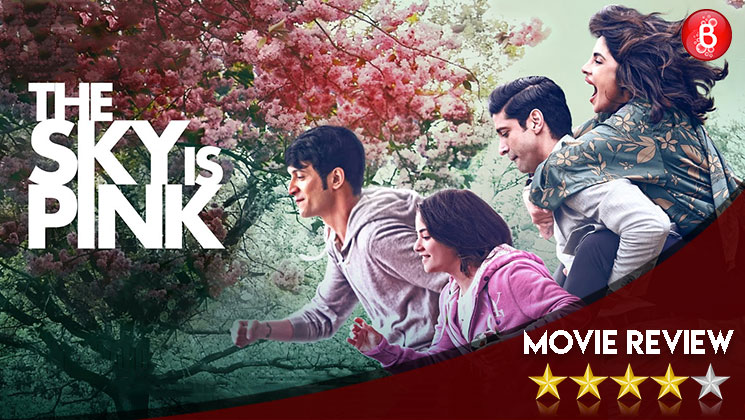 Image Source - Instagram
Directed By
Shonali Bose
Produced By
Ronnie Screwvala, Siddharth Roy Kapur, Kilian Kerwin, Priyanka Chopra, Madhu Chopra
Cast
Priyanka Chopra, Zaira Wasim, Farhan Akhtar, Rohit Saraf
Bollywood Bubble Rating
4/5
What's It About:
Farhan Akhtar and Priyanka Chopra have a second daughter (Zaira Wasim) after losing their first daughter to a terminal illness. Now, Zaira Wasim also has the same terminal disease, however, this time the parents literally leave no stone unturned so that their daughter Zaira Wasim doesn't have the same fate as the first daughter. Along with their firstborn, a son (Rohit Saraf), they do everything possible to make sure that Zaira Wasim gets to live the longest. Will they be able to save Zaira Wasim? Will they be able to win Zaira Wasim back from the hands of death? Well for that, you will have to watch the film.

What's Hot:
Farhan Akhtar. We always end up saying that Farhan Akhtar's best performance was in 'Bhaag Milkha Bhaag', but trust me, this man can pull off an emotional character with equal aplomb. This one is going to be a role that other actors, taking up an emotional family-driven drama script, should look up to as this one is a benchmark. Farhan has not only given you ample moments of anguish and pain but has interlaced it with lovely moments of sarcasm and comedy. He is truly at his best.
Priyanka Chopra. Well, she is back to Bollywood after 3 years, and she has done it with a powerful performance. From being the mother who doesn't want to abort her child, to becoming the mother who does everything in her power to save her dying child, to becoming the mother who refuses to cope up with the loss of a child, PeeCee has given her heart and soul to this role. She is the cool yet totally protective parent that we all aspire to be when we become dad/mom. Priyanka has totally owned this role.
The story written by Shonali Bose, Juhi Chaturvedi, and Nilesh Maniyar is impeccable. Now, we all know that the film is based on a real-life story, but to pen that down for screen with nuanced emotions and hilarious one-liners is something that the trio has achieved to the best. The story has been dealt with in a way we have seen Oscar-nominated films being dealt with. You are taken into the story right into the very first shot and you know what you've signed up for. However, you're not left hanging high and dry to sit and sob for the entire duration of the film. You have an ample amount of space where you don't just end up smiling but also laugh out loud.
The direction by Shonali Bose is surely something that will make you shed tears possibly more than once in the film's duration. The way she has shown the timeline of the movie with a back and forth approach is something that not many filmmakers are able to achieve with great finesse. From 1985 to 2015, the story keeps shuffling between time periods, and not once are you left feeling that you don't understand what's happening. It's an applaudable feat!
The beautiful locales of suburban London and outer Delhi have been shown very nicely. Cinematographers Kartik Vijay and Nick Cooke show you the two cities in their best possible timings of the year, which makes you want to head out there and spend some time with the Chaudhary family in the movie.
The music by Pritam is decent. Songs like Dil Hi Toh Hai and Zindagi end up staying with you after the film. The background score by Mikey McCleary is also something that will keep you glued to the screen rather than wander away in some popcorn.
Lastly, the message doled out by the movie. The film may be looking like a simple story of a regular day-to-day family, but it's way more than that. The film gives you a reason to sob thinking about how much your parents go through just in order to give you all your happiness.
What's Not:
To be very honest, Zaira Wasim seemed like a waste in this film after such a stellar performance in 'Dangal' and 'Secret Superstar'. She made an entry almost at the last scene before the interval, and even post-interval, she was barely seen. Even though in her minimal screenspace, she managed to do great, but I personally feel, she should have got more screen time.
The same is the case with Rohit Saraf. He too is barely seen throughout the film. Considering he was being promoted as one of the four major leads in the movie, his absence or rather the absence of his dialogues will make you question whether or not the young lad did a great job at signing the film.
Lastly, the urban setup and milieu of the movie is something that people in the heartlands of India might not relate to. The film will end up being an artsy film in their eyes, which honestly it isn't. The film might end up being solely for the multiplexes.
Verdict:
'The Sky Is Pink' is a sheer MUST-WATCH for all those suckers for great content-driven films. Farhan Akhtar and Priyanka Chopra, you guys need to take a bow, as you were simply splendid. I am going with 4 stars for the film.
Box-Office:
The film does have a stellar cast to bring in the audiences. Plus, it's getting some great reviews from critics which will help the intelligentsia to go in and watch the film. However, the masses who're just done with the festivities of Navratri and waiting for the festivities of Diwali might just end up giving this interim film a miss, thinking that it's too artsy. I would be happy to see me being proved wrong in this analogy because a film like 'The Sky Is Pink' needs to be seen by one and all.
Watch Trailer:

Also Read: 'War' Movie Review: Hrithik Roshan-Tiger Shroff's action extravaganza is 'Mission Impossible', 'Fast & Furious' & 'James Bond' stuffed into one