WATCH: Tiger Shroff's workout video will give you just the right dose of mid-week motivation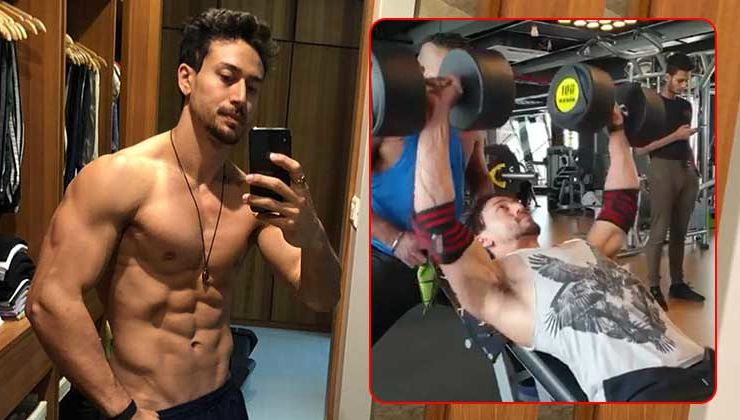 Image Source - Instagram
Tiger Shroff is surely one of the fittest actors of this generation. He never puts a foot wrong and his body is crazy combination of strength and flexibility. That said, behind those gravity defying dance moves lies years and years of single minded focus and determination.
Tiger was seen in a video where he was seen doing dumbbell chest presses with a couple of 100 pound dumbbells. Boy, isn't that impressive for someone so flexible? Take a look at the video here:
Other than strength training, MMA is a huge part of Tiger's life. In an interview with Mid-Day, he said, "MMA has been a vital part of the prep work in all my films. Learning MMA is not just a part of my lifestyle, but a crucial aspect of my career. In every film, I can mould my fighting style as per the action in it, the director's demand, and the surroundings. I alter my MMA routine accordingly so that I can execute different aspects of the form on screen."
Speaking about his diet, he said in the same interview, "My diet depends on what my goals are for a film. I am not blessed with a great BMR [basic metabolic rate], so I must be disciplined about my diet. If I want to lose weight, I consume less carbohydrates and more protein. For action roles – and primarily, the films I do are action oriented – that require me to look a certain way; like a superhero, if you may, I keep my protein and carbohydrate intake high. I'm on what one would call a caveman's diet. I stay away from all man-made items like rice and grains, and all forms of sugar. I primarily consume fruits, vegetables and animal protein. Sundays are my cheat-meal days. I have a sweet tooth, so I love ice-cream and chocolates."
So guys, if you want to have a body like Tiger, it's going to take a lot of work.
Also read: Tiger Shroff Birthday Special: 7 times the 'Baaghi' star stunned us with his killer dance moves