EXCLUSIVE: Riteish Deshmukh and Genelia D'Souza talk about parenting and tackling the paparazzi culture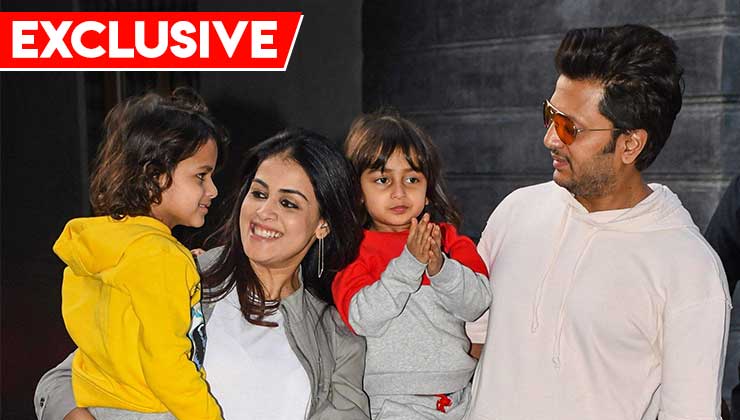 Image Source - Instagram
Riteish Deshmukh and Genelia D'Souza are one of the most ideal couples in Bollywood. The couple is dotting parents to two lovely sons, four-year-old Rahyl and six-year-old Riaan Deshmukh. And looks like they have nailed down the parenting tactics to the T. They are hands-on parents when it comes to handling their boys. And they believe in dividing their responsibilities.
In an exclusive interview with Bollywood Bubble, talking about Riteish spending one day in a week helping his children with the school work, especially with the distant learning that has become the current normal due to the pandemic, Genelia said, "I used to do the distant learning for all five days and I felt that I needed one-off, it was probably a different perspective but I don't feel I'm that good to do the whole thing as well for the child and I want to do my best."
Genelia shared that she asked Riteish if he would be willing to help the kids with studies for one day (in a week) and he immediately agreed. The actress also shared that every time Riteish realizes his Wednesday is coming, he starts dreading. The actor believes that one day a week in his child's education is completely ruined but his wife disagrees. Talking about the Marjaavaan actor, Genelia said that although he may be dispersed and all over the place very often however when it comes to the kids he is the best." The kids also become more sympathetic and they'll be like 'Baba (father) didn't do this, but we'll get it done,' and then they keep coming to ask me," shared the actress. Riteish revealed that his kids tell the teacher that things won't come on time because it's their Baba's day.
The couple further revealed that between the two, Genelia is the bad cop and all the decisions have to be screened by her while Riteish is the good cop who makes sure to only pamper the boys. Riteish said, "So when kids come, they just bypass me, for example, if they have to ask to go down to play they will ask Genelia when I ask them, 'Why don't you ask me?,' they say, 'Baba if we ask you, you will also ask Aai if we can go down to play' which is true."
Talking about their son Rahyl, Genelia revealed that he is the levelling factor in their life, "Riteish has this personality, which is really nice but he tends to intimidate. But Rahyl and Riteish have this amazing relationship with each other because they both don't listen to each other." Riteish added that if Rahyl decides to go and play then he will give a very good explanation of how he is right while his father is wrong.
Talking about the paparazzi culture, Ritesh said he has huge respect for all the photographers but it's his kid's school is where he draws the line. "There are 10 kids coming out of the gate and the photographers are clicking only 2 kids, it does not look nice. I just hope that outside school it stops otherwise I don't have an issue," said the Dhamaal actor.
Also Read: EXCLUSIVE: Riteish Deshmukh's dreamy proposal for Genelia D'Souza will melt your heart, watch video