'Gully Boy' Movie Review: Just like life, this film hits you like a wrecking ball (in a good way)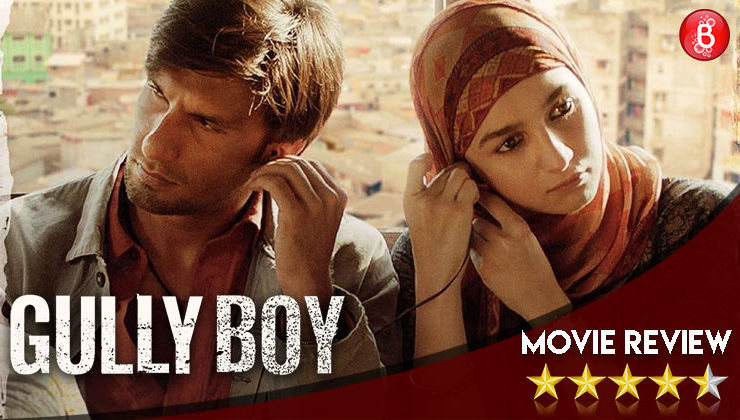 Directed By: Zoya Akhtar
Produced By: Ritesh Sidhwani, Farhan Akhtar, Zoya Akhtar
Cast: Ranveer Singh, Alia Bhatt, Kalki Koechlin, vijay raaz
Duration: 2 hours 33 minutes
Bollywood Bubble Rating: 4.5/5
While going for 'Gully Boy's screening, I felt like a kid who had just been given a new bicycle. I knew I would like it. I have been trying to learn a little bit of rapping ever since this movie's first song came out. It was just a question of whether it'll be a good film or a great film. My dear reader, it's a great film.
Composed expertly, 'Gully Boy' is a coming of age story, it's a love story, it's a story of a movement and it's also a story of a young man struggling against a bad father. It's the kind of movie that makes you want to get up from your seats and pump your fists in the air. I forget when was the last time I rooted for a protagonist like I did in this movie. (Maybe 'Taare Zameen Par') A lot of it has got to do with Zoya's ability to bring the essence of human existence to the forefront of any scene.
In one scene, Safeena (Alia Bhatt) scans his boyfriend Murad's (Ranveer Singh) interest in Sky (Kalki Koechlin) at a pub. It's a beautiful scene, because in one second, you can scan (and feel) the psyche of three people. Safeena can see through people's eyes, and so can Zoya. The director's attention to details is amazing, and so is her ability to execute her vision.
A lot of plaudits should go to Ranveer Singh as well. This is not a role which requires him to be dramatic like Alauddin Khilji. It's a more restrained performance much like Varun Dhawan's Dan in 'October'. The manner in which he captures the Road from struggle to fame is seamless. You don't feel like he has changed as a person. He's still the same soft spoken guy even after winning a competition. And yet, he comes of age. He is wiser, he learns to not ignore important things and he has learnt to be more confident.
Final verdict: 
I am definitely going to watch this movie again so that a few more layers are revealed. For you, my reader, I suggest you book your tickets before they get sold out.
Watch trailer: